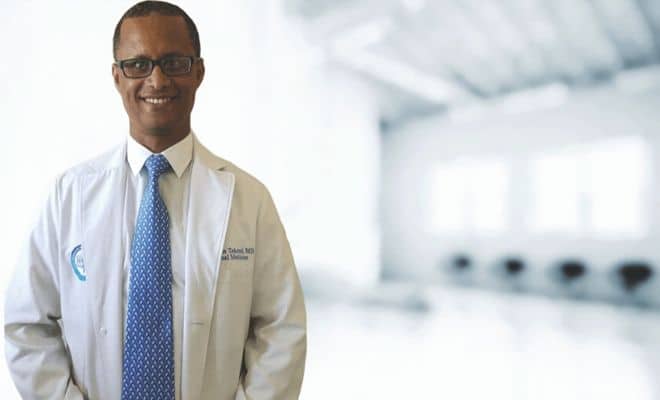 Dr. Tewodros Teketel ("Dr. Teddy") is the Medical Director and onsite doctor at Zion Urgent Care Clinic. He has been practicing medicine for 20+ years and seeks to provide not only excellent medical care but to do so within a holistic framework of human health and well-being.
He is a certified MD with the American Board of Internal Medicine certification, and an avid learner who believes in continually growing his medical knowledge and expertise.
One of his colleagues describes him as, "One of those really smart people whom you can sense intellectual curiosity flowing out of within even a 1-minute conversation."
During his downtime, Dr. Teddy enjoys reading fiction, jogging, and spending as much time as he can with his children (e.g., who push him to work on his FIFA video games skills whenever he can).
Dr. Teddy's Medical Training and Experience
Dr Teddy has practiced medicine in the USA for over a decade but his international heart is an integral part of his journey. Dr. Teddy was born and raised in Ethiopia, where he earned his Medical Doctorate, and then went on to study in Europe, where he completed public health and Infectious disease trainings in Belgium.

After his studies, Dr. Teddy's passions for public health and for using medicine to improve the well being of people from all nations of the world literally led him around the world. He decided to use his training to serve others and worked internationally for six years for Doctors Without Borders in various Asian and African countries.
In 2008, Dr. Teddy moved to the USA and completed his Internal Medicine residency at Alameda Health System in California in 2011. He decided to apply all he learned internationally first among those in relative need among us here in the United States by working with a patient population where 40% are recipients of either Medicare or Medicaid.
In 2015, he and his family moved to Katy where he learned the Texas medical system, and how to best serve the medical needs of those here in Texas. At the same time, Dr. Teddy's unique background marked him for life and set him apart as being an extra compassionate physician, according to former medical coworkers of his here in Texas. His years of experience practicing medicine internationally and among diverse populations also shaped his perspective on the importance of holistic medicine, which he continues to use as his framework to this day.
A New Beginning, the Founding of Zion Urgent Care Clinic
In September 2019, Dr. Teddy and his wife opened Zion Urgent Care Clinic. In his own words, "By the plan of God and together with my wife, we were able to open Zion Urgent Care where we attempt to bring prayer (as spiritual health) as part of caring for the sick."
In addition to the excellent medical care he and his team provide for each patient, Dr. Teddy is also very comfortable talking about care for his patients holistically. "We provide a wide range of services but one thing we want to grow is praying for or with patients. This is understandably unusual in an Urgent Care setting but this, we believe, is the calling for Zion Clinic."
A Special Verse, Providing Passion for the Work
A verse from the Bible that has meant a lot to him that has asked be shared is Jeremiah 30:17. "I will restore you to health and heal your wounds,' declares the LORD, 'because you are called an outcast, Zion for whom no one cares.'"
While his faith is obviously central to his life and work, Dr. Teddy appreciates and enjoys working and caring for people from all walks of faiths (including those who do not want to carry a faith label of any kind). In the end, Dr. Teddy's focus and passion is to serve the Katy community and to seek the health and healing of everyone who comes to Zion Urgent Care Clinic.
Disclaimer/Clarification: Zion Urgent Care Clinic is not a Jewish or a political or religious organization. Zion is a name used to reflect a place where the Glory of God is reflected.