What level of antibodies has your body produced after your COVID-19 vaccination?
Zion Urgent Care Clinic® is partnering with Allermetrix®
to get you an answer.
Learn your quantitative antibody levels to determine how you responded to the vaccine.   
The medical community continues to learn at a rapid pace as this pandemic progresses.
With effective vaccines available,
it is important to understand how your body responded
and if you may be at continued risk of infection.
Testimonial
"The COVID pandemic gave us a sobering year in 2020, with ongoing pressure on the global medical and financial worlds. Rapidly developed vaccines are finally providing hope.
Things are moving fast, with new questions arising almost daily.
As a physician, I was fortunate to receive a vaccine early, I felt a burden was somewhat lifted. However, wanting an extra level of confidence, I sought information about antibody testing. I learned that the standard antibody tests offered in most clinics and hospitals answer the question of exposure and infection, but not response to the vaccine.
I underwent a simple blood test by Allermetrix, confirming my immune system's vigorous response to the vaccine, Though I will continue to practice social distancing and masking until the pandemic is over, this knowledge has given me an extra sense of freedom."
– a senior Tennessee physician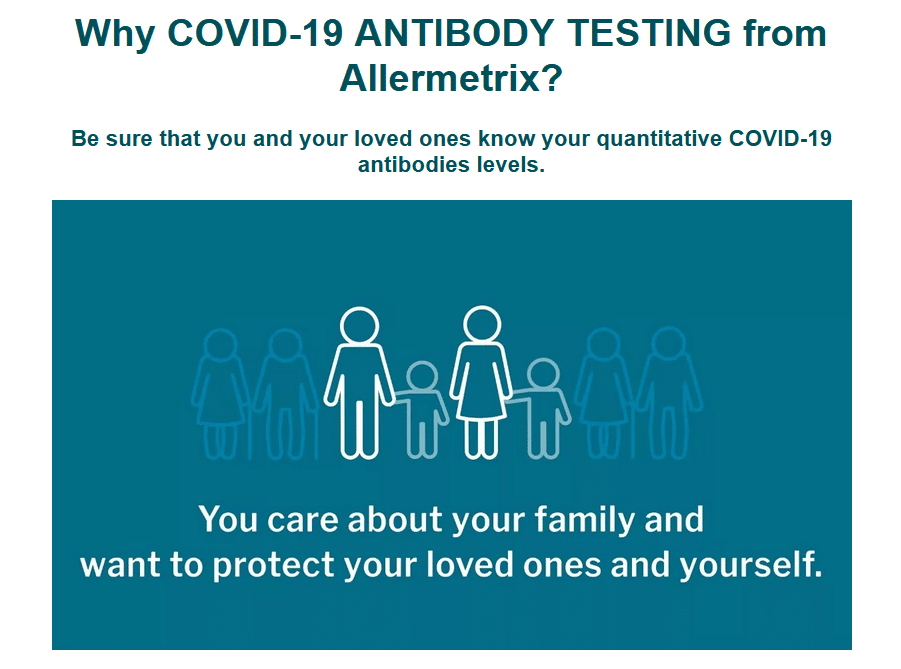 How Do I Get This Test?
Make an appointment to come in and have your test done
We will discuss your results with you after we receive the results.
What You Need To Know
Are you immune after you are vaccinated?

Not necessarily, there is a 5% – 15% chance you are not immune. Current reports show that some vaccines protect up to 95% of people vaccinated while others protect up to 76%. No vaccine guarantees 100% immunity.
How do I know if I'm immune?

Currently there is not yet a method to prove you are immune to the virus. It is known that certain antibodies are highly associated with blocking the virus from infecting cells in a test tube. However, currently no one has yet proven they provide immunity.


More specifically, what is known is that antibodies to the receptor binding domain (RBD) and S1 subunit of the viral spike protein are highly associated with blocking the virus from infecting cells in a test tube.
Can you give me an example so I can better understand this?

122 sailors went on a fishing expedition. 120 were tested for the virus and all were negative when they left port. Upon return 104 had COVID-19.

Three of the sailors had RBD antibodies before leaving port and did not get COVID-19. None of the other 117 tested had RBD antibodies.

The chances of that randomly occurring are 1 in 400, generally if random chance is less than 1 in 100, the statistical relevance is strong. This is a small study, but highly significant.
What about the therapies authorized by the FDA?

The monoclonal therapies that have FDA emergency use authorization (EUA) use antibodies that are directed at the RBD. These therapies have been shown to lessen the severity of COVID-19 as well as shorten its course.

People given the Moderna or Pfizer vaccines have been shown to have high levels of antibodies to RBD and the S1 subunit.

COVID-19 patients who receive plasma from others who have recovered from the disease and have high levels of anti-spike protein antibodies, had less severe disease.

The U.S. Food and Drug Administration (FDA) has taken the position that testing positive for COVID-19 neutralizing antibodies does not necessarily mean that a patient is protected from COVID-19. So, patients and providers still need to follow public health precautions.
What makes this Allermetrix® COVID-19 Antibody test different from others?

Other current COVID-19 serology tests are qualitative which only tell you if you have antibodies or not. Allermetrix® serology is quantitative and indicates how many antibodies you have. The higher level of antibodies, the more viruses that can be neutralized.
What do my results mean?

Your results should be reviewed with your healthcare provider to understand how they relate to you.
When should I take this antibody level test?

At least two weeks after COVID-19 symptoms began, or for post-vaccination testing, a minimum of two weeks after the final dose was administered (for Johnson & Johnson vaccine four weeks are recommended).
Who are the scientists who stand behind this test?

Jay Weiss, Ph.D. (Northwestern University, Tumor Cell Biology) has been actively involved in immunoassay test development and clinical trials for over 30 years focusing on the field of allergy. He has designed and directed assay development programs for various substances including: Total IgE, specific IgE, specific IgG and specific IgG4. Dr. Weiss has served as the President of the In Vitro Allergy Diagnostic Manufacturers Association, and advisor to the NCCLS In Vitro Specific IgE Standardization Committee. He has published several articles related to latex allergy and given numerous lectures on diagnostic allergy assays throughout the world. Dr Weiss directs research and development at Allermetrix(R) and is currently focused on allergen component testing.

Gary Kitos, Ph.D., H.C.L.D., C.C. (Syracuse University, Biophysics) clinical immunology career spans more than 30 years, which began in an FDA approved allergy extract pharmaceutical company. He has developed specific IgE and specific IgG4 assays and integrated these tests into the reference laboratory environment. Dr. Kitos owned and operated Allergy Testing Laboratory, one of the nation's largest allergy in-vitro laboratories. His unique background in allergy extracts and formulation coupled with his clinical immunology background has formed the basis for his test strategy approaches in the field of allergy. Over the years he has designed and developed several allergy laboratory information systems (LIS) and was the first to offer interpretative allergy patient reports. Dr. Kitos is the Medical Laboratory Director and is board certified as a High Complexity Laboratory Director by the ABB.

Allermetrix(R), a College of American Pathology (CAP) certified allergy specialty laboratory, is entirely owned by two scientists who have devoted their careers to the field of allergy. It was founded in 2006 and is built around offering physicians the most sensitive assay coupled to the latest allergy information.
What does "CAP Accredited" mean?

As the world's largest organization of board-certified pathologists and leading provider of laboratory accreditation and proficiency testing programs, the College of American Pathologists (CAP) serves patients, pathologists, and the public by fostering and advocating excellence in the practice of pathology and laboratory medicine worldwide.